Mourinho: Osimhen 'afraid' of Kane competition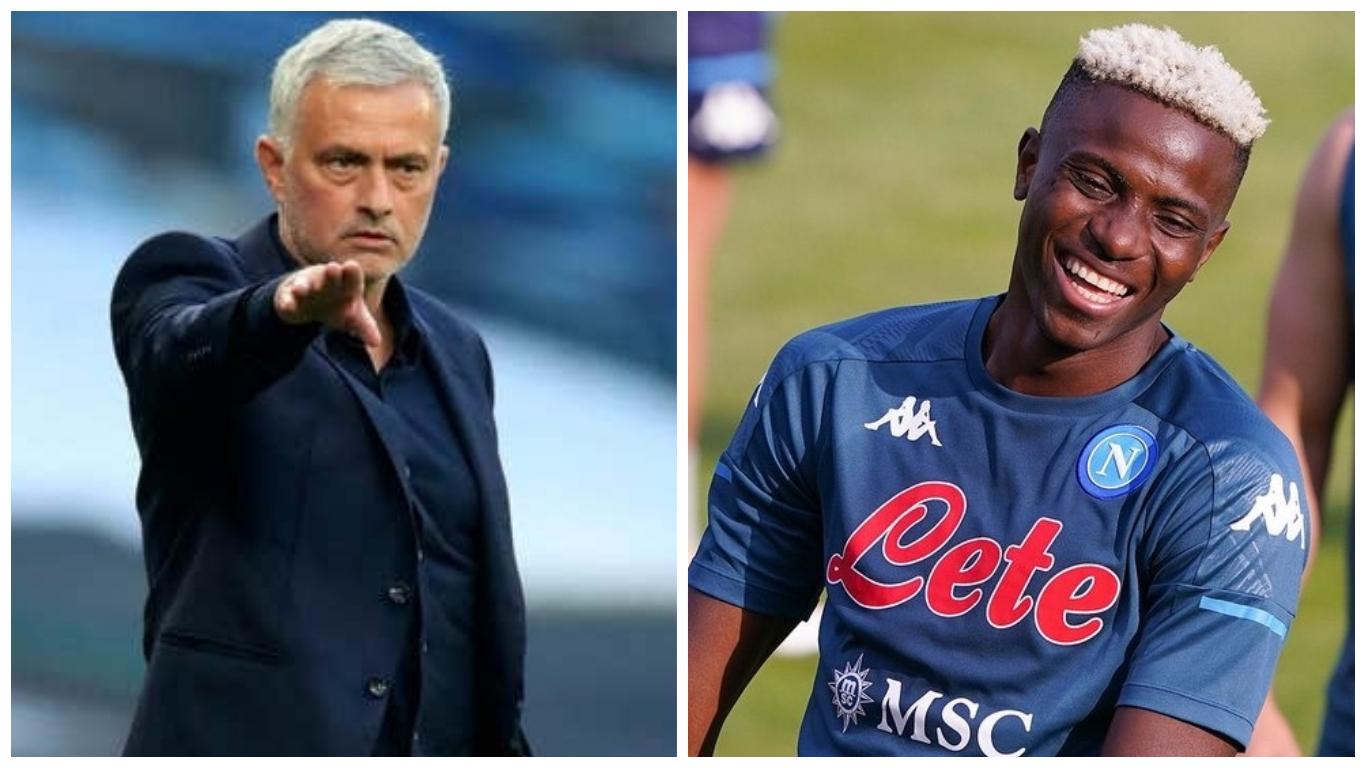 Tottenham boss Jose Mourinho has taken a swipe at Nigeria international, Victor Osimhen for snubbing a move to the London side out of fear for England talisman Harry Kane, Sportinglife.ng reports.
Before joining Napoli from Lille this summer, Osimhen's former agent Ariyo Igbayiola reportedly held talks with Mourinho over a deal for the striker.
Igbayiola was said to have informed the Lilywhites that Osimhen will only join if Kane seals a move away.
"We told Mourinho that if he wants Victor, will Harry Kane be leaving?" he told Nigerian newspaper The Cable.
"If Kane is still playing for Tottenham will Victor play? Because he will always be benched for him.
"Kane is their number one striker and he is the captain of England. All of these will always work for him in the club but at Victor's detriment.
"He needs a club where he will always play full game week in, week out. Not to be kept on the bench."
Speaking on the lack of attacking options in his team, Mourinho said he does not want to sign a striker who is afraid to compete with the England captain.
One of the narratives around their lack of ability to sign a striker in recent years is that no prospective arrival will be willing to sit on the bench and watch Kane play.
But Mourinho says that is not a mindset he is willing to entertain.
"The point is not me convincing the striker, it's the striker convincing me," the Portuguese said. "And if the striker is afraid to come to Tottenham and the striker is afraid of competition then I don't want the striker.
"So it's not for me to convince him, it's for him to convince me. If he says I don't want to go because I don't want to be in a squad where we have Harry Kane and Sonny, (Erik) Lamela, Lucas (Moura), I don't want to go to that squad then goodbye.
"If you change the direction from the striker position to midfield – we have (Harry) Winks, (Moussa) Sissoko, (Tanguy) Ndombele … (Summer signing Pierre-Emile) Hojbjerg didn't ask me, 'Am I back-up or I am I going there to play?' It's up to you, mate.
Read Also: Barcelona players vote Messi to continue as captain
"Players decide who plays, it's not me. It's players who decide who plays.
"So a striker to come here… I know that we have the best striker in this country, there is no doubts about it, but the striker that comes here has to come with his own ambitions. If he doesn't have ambitions, he doesn't belong to us."
The post Mourinho: Osimhen 'afraid' of Kane competition appeared first on Sporting Life.